"This game is not for you" Why are there so few women in Kyrgyz politics?
29 January 2019
Story was updated on 29 January 2019
Originally published by KLOOP
The laws of Kyrgyzstan are becoming friendlier to women who want to engage in politics. However, society itself does not fully understand that not only men can make fateful decisions for the country.
The original material was published on the news portal «Kloop»
The material was prepared in partnership with the School of Data and the country office of UN-Women in Kyrgyzstan.
40-year-old Eleonora Syidanova is the only woman deputy in the Belovodsk village council among 30 men. Two years ago, the locals elected her because she actively helped with solving the problems of the village.
Syidanova says that in the first weeks after the election it was "unclear and difficult". She did not know what was the local deputies' job and she had to overcome the distrust of men.
"I was elected chairman of the budget commission, and for some male deputies it was a hard pill to swallow, but then we started working and agreed that we all work together for the good of our village," she said.
The situation with women in politics in general in Kyrgyzstan is slightly better than in the Belovodsk village council but still does not inspire optimism.
In the past three years, the ratio of female deputies across the country does not exceed 11 percent. Among the 8,700 elected representatives throughout the country, the number of women deputies is just under a thousand.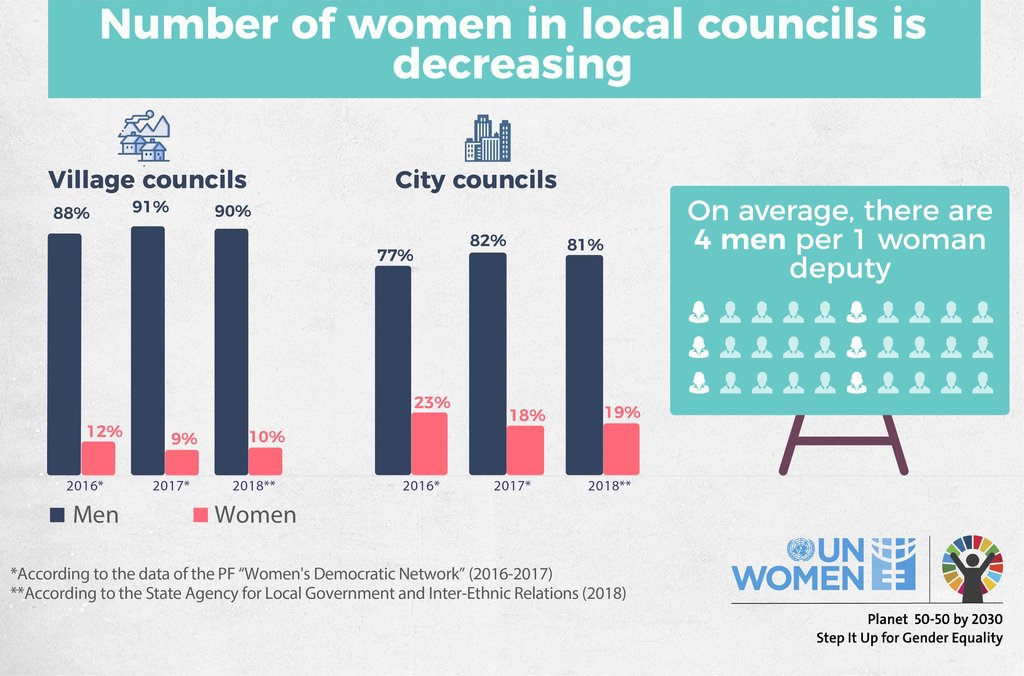 The presence of women in politics is very important for laws to be adopted more fairly.
"There is a law on breastfeeding, no man will ever write such law," MP Ainuru Altybaeva cites the example.
"Women always raise questions about how to build kindergartens, milk processing and sewing shops, while men are busy with building gyms, baths, saunas, and wrestling halls. They only care about leisure activities, and we are talking about social issues"explains Rakhiya Onorova from Chatkal village council.
One of the MPs Ainuru Altybaeva believes that women in local councils have harder time than her colleagues in Parliament due to imperfect laws, prejudices, lack of money and time, and family obligations that patriarchal society imposes on them.
"To a woman, especially a rural woman, can you imagine how hard it is to fight with male candidates? Those men are usually businessmen and entrepreneurs. They have the opportunity to secure their [election] campaign" says Altybaeva.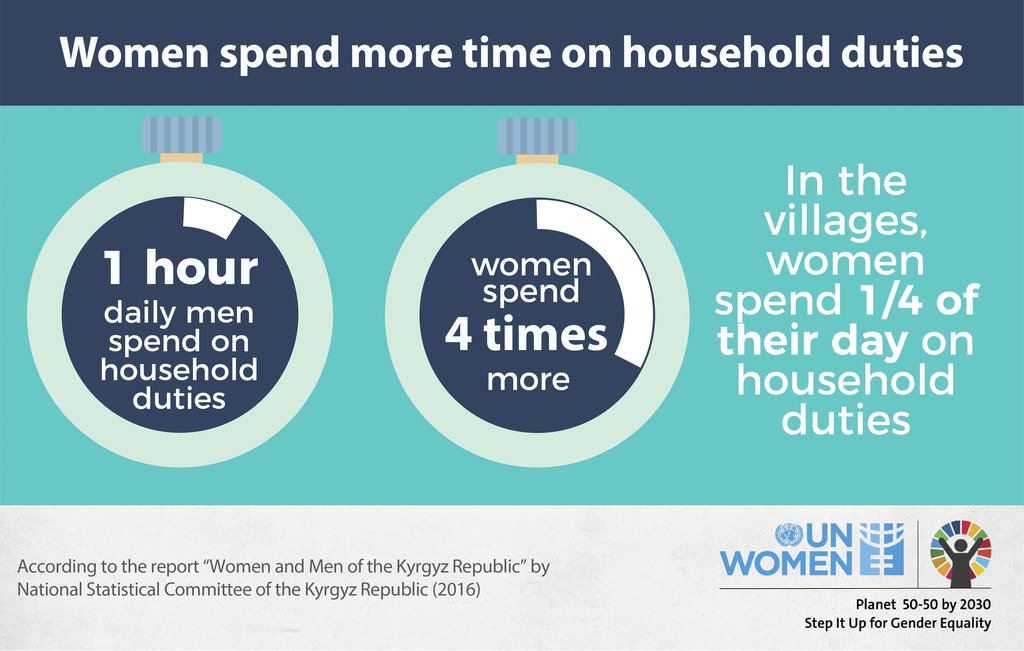 The main obstacle for women in local councils is the majority voting system. In it voters must vote for each individual candidate, not the parties. Women have harder time competing with men.
Chynara Akhmedova is a female deputy of the Batken city council, she believes that rural men often have high self-esteem due to their gender, despite the fact that they may be "three times lower [in terms of development].
"Still, a rural woman is more restrained, she is afraid of rivalry. When women advance, men themselves begin creating negative public opinion. They still have khan manners in their brains, "says Akhmedova.
Another big problem for rural women who want to engage in politics is the rejection by society of women leaders.
"In our traditional families, a woman should be engaged in family, cooking and all that. But I think that if a family is educated, educated in a secular spirit - after all, we are a secular state - no problems should arise" says Eleonora Syidanova.
Her family is rather the exception to the rule. Relatives and friends of Syidanova supported her idea to go to the village council and even helped with campaign.
"My relatives reacted positively. If I bring benefits to society, what else can they say? [...] My husband was the first to support me, he is also a deputy of the local council, "says Syidanova, but later adds " If you go into politics you have to do everything: my family is my prerogative, and then comes work and everything else".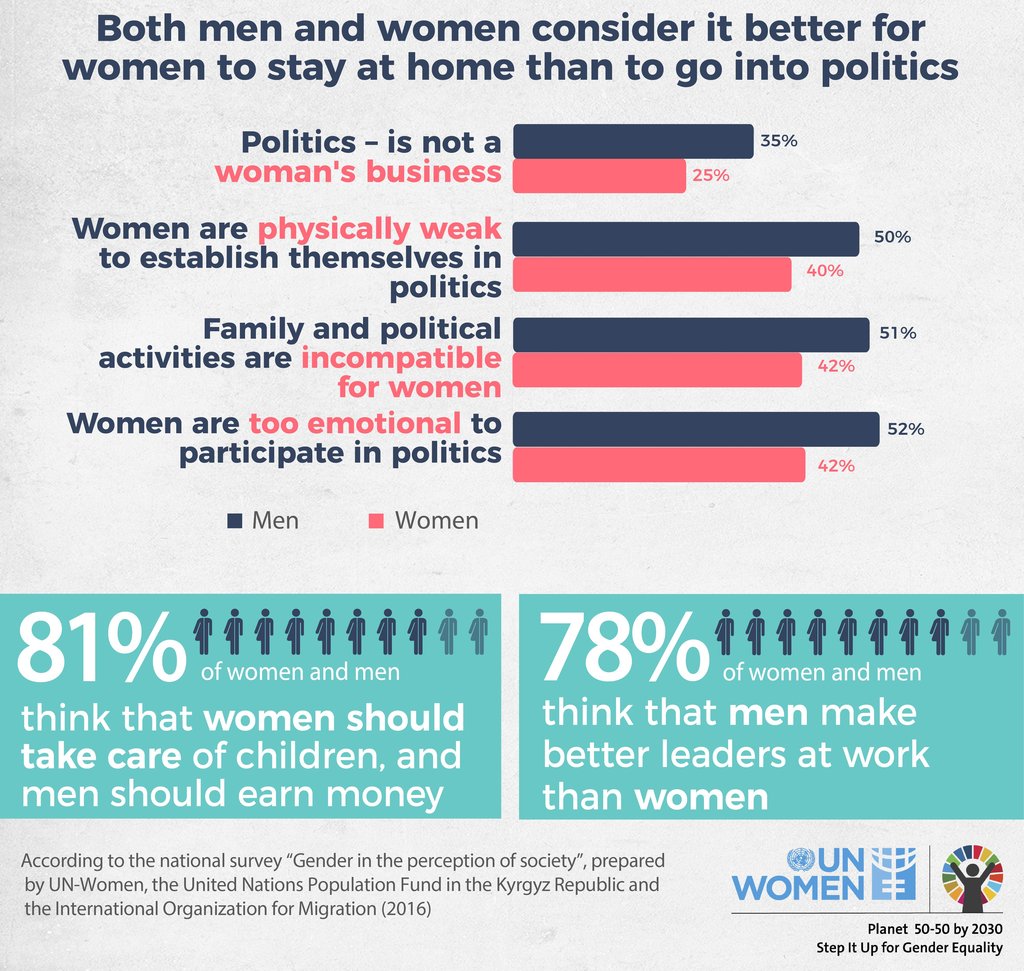 Supportive relatives and lack of disapproval are rare for Kyrgyz women who want to be involved in politics. Nearly 60 percent of kyrgyz people believe that women should not take part in politics at all.
The former deputy of the Karakol city council Elmira Ismailkunova says that her children and her husband were against her political career.
"Nobody wanted [for me to become a deputy], they said:" Why do you need such a headache, this game is not for you, you are a woman ". They persuaded [not to run for parliament] in their own way, "she says.
Ismailkunova entered the city council according to party lists, worked there for a while, and then the party asked her to hand over her mandate in order to let other party members work. Now she is doing the same job not as a deputy but as a party member and activist.
"[My family] felt relieved when I left. My youngest son is still against [my work], "says Ismailkunova.
Despite the fact that Kyrgyzstan have laws that oblige to guarantee seats for female deputies both in the parliament and local keneshes, the number of women deputies is still not really growing.
The first such law was passed in 2011 - one year after the parliamentary elections. He obliged the parties running for Parliament to include in the lists no more than 70 percent of candidates of the same sex - of course, this restriction most likely applies to men so that they do not dominate in government decisions.
From a legal point of view, this law allows women to have guaranteed 30 percent of parliamentary seats in the Parliament - that is 36 out of 120 mandates. But in reality the law does not work - now there are only 22 women in parliament.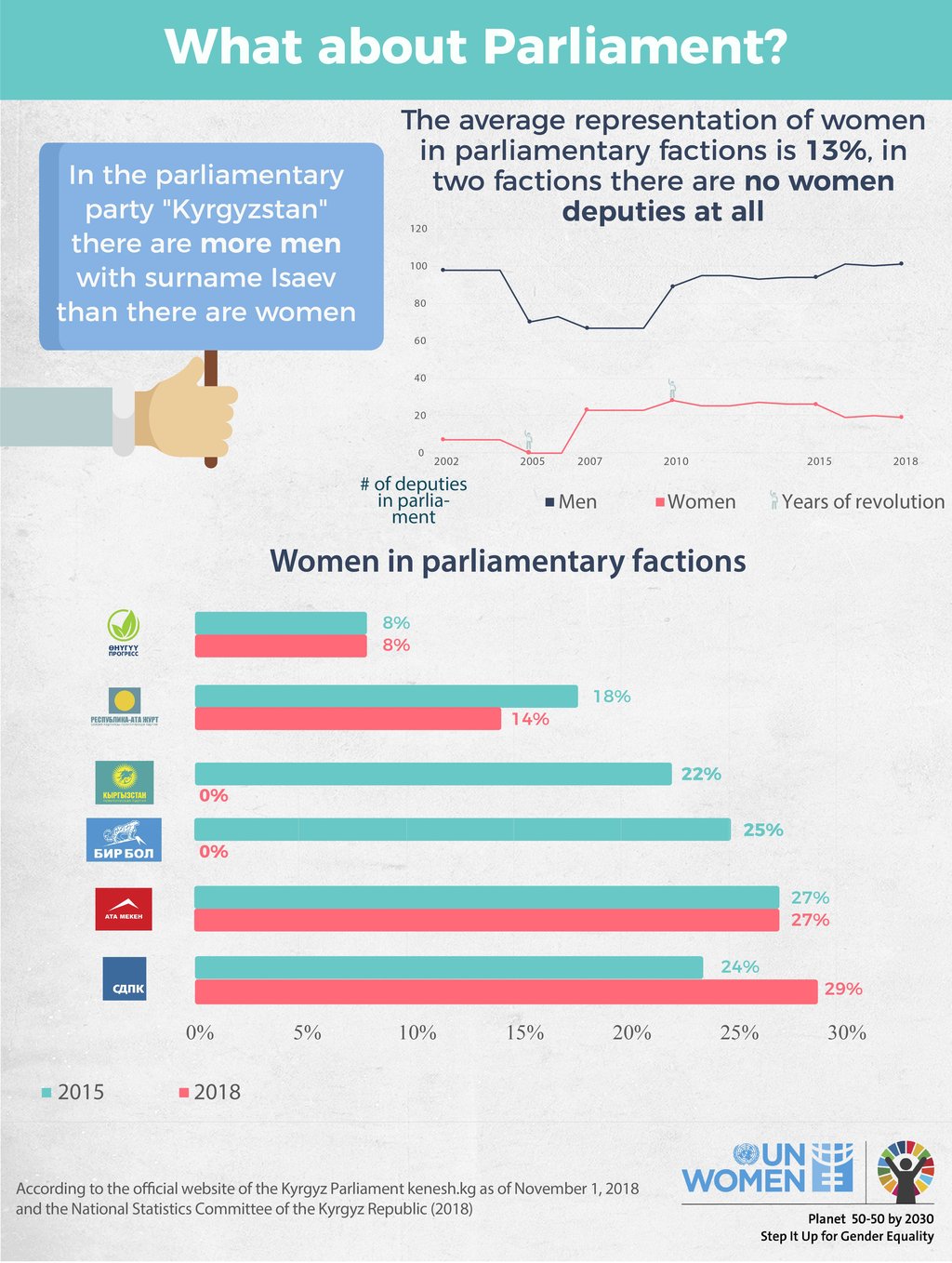 Compliance with this law should be monitored by a parliamentary committee responsible for the regulation. But it rarely raises issues of gender balance among deputies, and no one responds to them properly.
Over the past 8 years Altybaeva, who is not a member of the committee on regulations, spoke most often about the participation of women in politics. She promotes laws that would help increase the number of women in politics.
The male MPs seem to be ready to let more women go into the local councils but not into the Parliament. For example, the parliament voted twice against the fact that every third candidate in the party lists must be a woman. Nowadays women take every fourth place in the lists.
"Men supported [the amendments to the laws] so that the difference in the party lists in the city councils was not more than two positions, but when we suggested doing the same thing in the Parliament, they did not show any support, although we put the bill to the vote two times," says Altybaeva.
Not discrimination, but respect
That being saidm 15 deputies from different regions with whom the Kloop journalist spoke, said that they do not experience discrimination from men.
"I cannot say that they directly discriminate us as women, but the male solidarity in the deputy corps does exist" said Chynara Akhmedova, a member of the Batken city council. "There are only seven women here and if any issues need to be resolved, the men can quickly rally together where if need to lobby something".
One of her colleagues from the Kemin city council says that male deputies created a group in the messenger only for themselves. "They are sending something there, laughing at it. And when I asked what group kind of group is that they said that it was their purely male group" she says.
Altybaeva also claims that there is no discrimination in the work of the Parliament, according to her she is rather respected for being a woman deputy, and no one puts pressure on her on the basis of sex.
"There wasn't occasion when I was being said"You are worse than me, because you are woman. I can even say I am respected".
Author: Alexandra Lee
Infographics: Begaiym Adzhikeeva
Editors: Altynai Mambetova, Dmitry Motinov, Katya Myachina
29 January 2019
Story was updated on 29 January 2019
Originally published by KLOOP
Disclaimer - The opinions expressed herein are the author's own and do not necessarily express the views of ForSet.